Cantabria Labs receives the Plimsoll 2021 Business Excelence Certificate
Plimsoll

, a

well

known

certifier

specialised

in

financial

and

market

analysis

, has

aknowledged

Cantabria

Labs

for

its

 

remarkable

job

and performance.
As a result of the analysis conducted by Plimsoll in the "Dietetic foods and nutritional supplements" field during 2021, their financial experts have awarded Cantabria Labs with the "Plimsoll Prize 2021" granting them with their Business Excelence Certificate as a recognition for their work and performance.  
 The report's last edition certifies that the spanish pharmaceutical laboratory is the 4th biggest company in the dietetic foods and nutritional supplements industry, amongst 200 other companies. 
"We are very proud to receive this recognition which represents the dedication and effort the Cantabria Labs family has made in an area that is so important and strategic for us", asserts Susana Rodríguez Navarro, CEO of Cantabria Labs.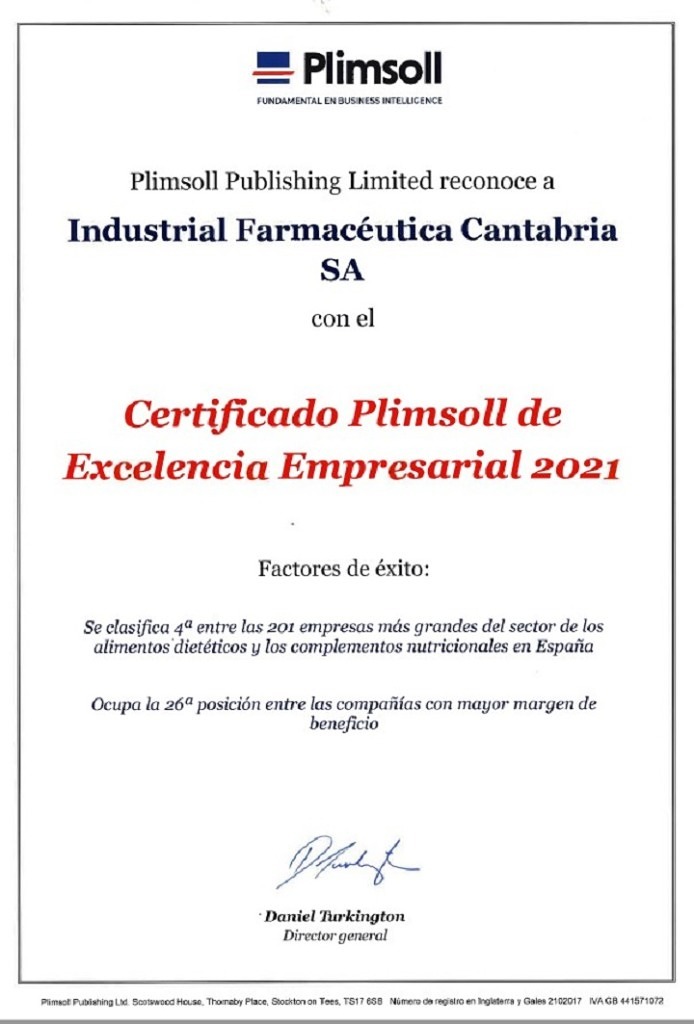 With its innovative products and entrepreneurial spirit, Cantabria Labs is currently a leading brand in dermatological prescriptions in Europe (the leader in Spain, Italy and Portugal) and its aim is to improve people's health and quality of life. Its presence in over 80 countries and its subsidiaries in Spain, Italy, France, Mexico, Portugal, China, the United States and Morocco have earned it an excellent reputation and international backing.
Cantabria Labs'Business Unit specialised in clinical nutrition, Cantabria Labs Nutrición Médica, has been offering specific healthcare solutions in the pharmaceutical and nutritional field for over 15 years.