Cantabria Labs: Training Personnel on the Ground in Malawi
Training the inhabitants of Malawi is a core goal of the project and one of the sources of greatest pride for Dr Cristina Galván, the soul of DerMalawi.
Changes are afoot in Malawi, one of the most depressed countries in the world. It all began when project pioneer Dr Cristina Galván travelled there in 2015 with the hope of achieving better skin health amongst a population continually affected by infectious diseases like scabies, impetigo and leprosy, and advanced skin tumours in vulnerable communities such as albinos. What matters, Dr Galván says, is making them self-sufficient through education. "Teaching the local health personnel who see patients daily the skills they need to diagnose and cure; joint care management with patients, training workshops and the online dermatology network are part of this educational task. For online dermatology we have established an easy-to-complete protocol that involves answering questions and following a number of simple guidelines. After a very short training period the staff can send through each case and clinical photos so we can make a good diagnosis and provide the right care and prevention advice."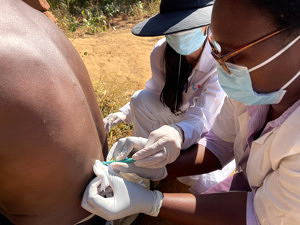 Leprosy early detection campaign, June 2021.
The work has paid off: the online dermatology protocol recently won the Free Communications Award from the Epidemiology and Health Promotion Group of the Spanish Academy of Dermatology and Venereology (AEDV). It has also produced good news: after a lot of effort combining his studies with work to support his family and with financial support from Cantabria Labs, one of the local health personnel that had been working with DerMalawi from the outset recently obtained the Clinical Medicine diploma that will allow him to work as a medical assistant, enabling him to improve his work conditions and salary. "I have always focused on empowering the local people," Dr Galván said. Cantabria Labs has believed in the project from the get-go and supported it economically and with people on the ground. "The company not only helps us with the skin health programme but also by promoting education in schools. Education and culture are the foundation for moving forward," Dr Galván said.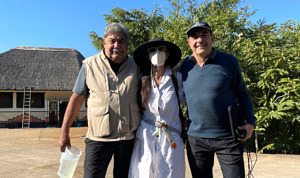 Dr Galván with Cantabria Labs' Antonio Matji and Alfonso Yáñez.
"More and more people are completing courses promoted by the World Health Organization and other cooperation agencies. They catch the bug for this kind of work when we do it together". The excellent content allows the health personnel to upskill and feel more confident attending patients. "It isn't always easy to get them on board since the only benefit for them, as the training courses are not formally recognised, is personal satisfaction rather than a better contract, wage or CV," Dr Galván said.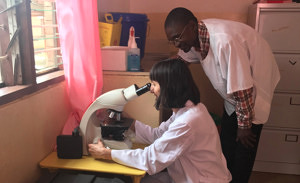 Cristina Galván showing a local health worker how to make a good diagnosis.
Time to hand over the baton
For Dr Galván, who is devoted body and soul to research, private consultation and solidarity skincare, the future medical assistant diploma comes at a bitter-sweet time. 'Bitter' because for health reasons she has to hand the DerMalawi baton over to new hands. And 'sweet' because, as she says, "it's like your child who came top of the class now out in the big wide world and working alongside some wonderful people". Part of the success, she believes, is that DerMalawi "has grown at a sensible pace. It is also because a company like Cantabria Labs values the importance of the educational improvement of the population and of providing help by sending its pharmacists out to train people on the ground so they can make the topical products they need, taking a step further towards self-sufficiency. Its support is absolutely essential," Dr Galván said.