How to maintain a good level of vitamin D without stepping outside
HELIOCARE Ultra D capsules help make up for the lack of sunlight
Nutritional supplements like HELIOCARE Ultra D Capsules and diet become basic sources of this micronutrient essential for our health.
A shortage of vitamin D is connected with an increased likelihood of developing diabetes, obesity, bone problems and some types of cancer.
The feeling of the sun on our skin is one of the things we are missing most these days. Sunshine raises our spirits, encourages us to be active…it makes us feel better. In fact, exposure to the sun -so long as it is controlled- has major health benefits: it controls blood pressure, regulates melatonin (the sleep hormone), cholesterol metabolism and more.
But there's no doubt that one of the best-known benefits of sunshine for the body is that it provides vitamin D, vital to our health since, among other things, it helps ensure correct bone development (essential for warding off osteoporosis, for example).
"More recently its function in regulating the immune system, including modulating inflammation and preventing several cancers, has been reported," says Dr Salvador González, a dermatology service consultant at Hospital Ramón y Cajal in Madrid and the Memorial Sloan-Kettering Cancer Center in New York (USA).
But how can we keep up a good level of vitamin D now when we're sheltering at home?
More than just sun
Exposing parts of the body that are usually uncovered (hands, ankles, neck, etc.) to the sun for just 10 minutes twice or three times a week has been found to cover our needs for vitamin D. But Dr González warns that exposure to the sun can be impacted by many factors, so alone it is not enough to maintain good levels of vitamin D in the body. We must also follow protection recommendations such as applying sunscreen, staying out of the sun in the hottest part of the day, etc.
"Therefore, both during self-isolation as well as before and after, it is advisable and indeed necessary to turn to other sources of vitamin D, such as nutritional supplements and diet," the doctor says.
Daily use of a supplement like HELIOCARE Ultra D Capsules from Cantabria Labs, with its vitamin D, C and E-rich formula, can help offset the lack of vitamin D from the sun. Plus, with its high content of Fernblock®, the Polypodium leucotomos extract exclusive to Cantabria Labs, it boosts the skin resistance's to damage from the sun, making it perfect for times like these since we continue to suffer from its action even at home.
With regards diet, good sources of vitamin D include milk and dairy products, eggs and oily fish (salmon, tuna, sardines, mackerel, herrings, etc.).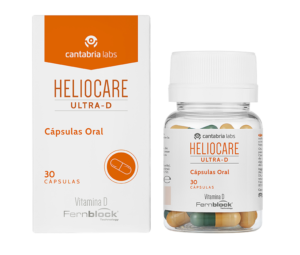 Now more than ever
Dr González says it is important to include these foods in our daily diet, along with a nutritional supplement like HELIOCARE Ultra D Capsules to prevent against deficits.
"Recently published studies show that the vitamin D obtained orally is functionally identical to that produced as a result of exposure to the sun," he says.
About HELIOCARE Ultra D Capsules
Photoprotective capsules with vitamin D. The comprehensive formula is high in Fernblock®, which boosts the skin's resistance to the sun and neutralises and repairs sun damage from the very first time you take them. They also contain vitamins D, C and E, lutein and lycopene.
In combination with topical sunscreen provides high level of sun protection