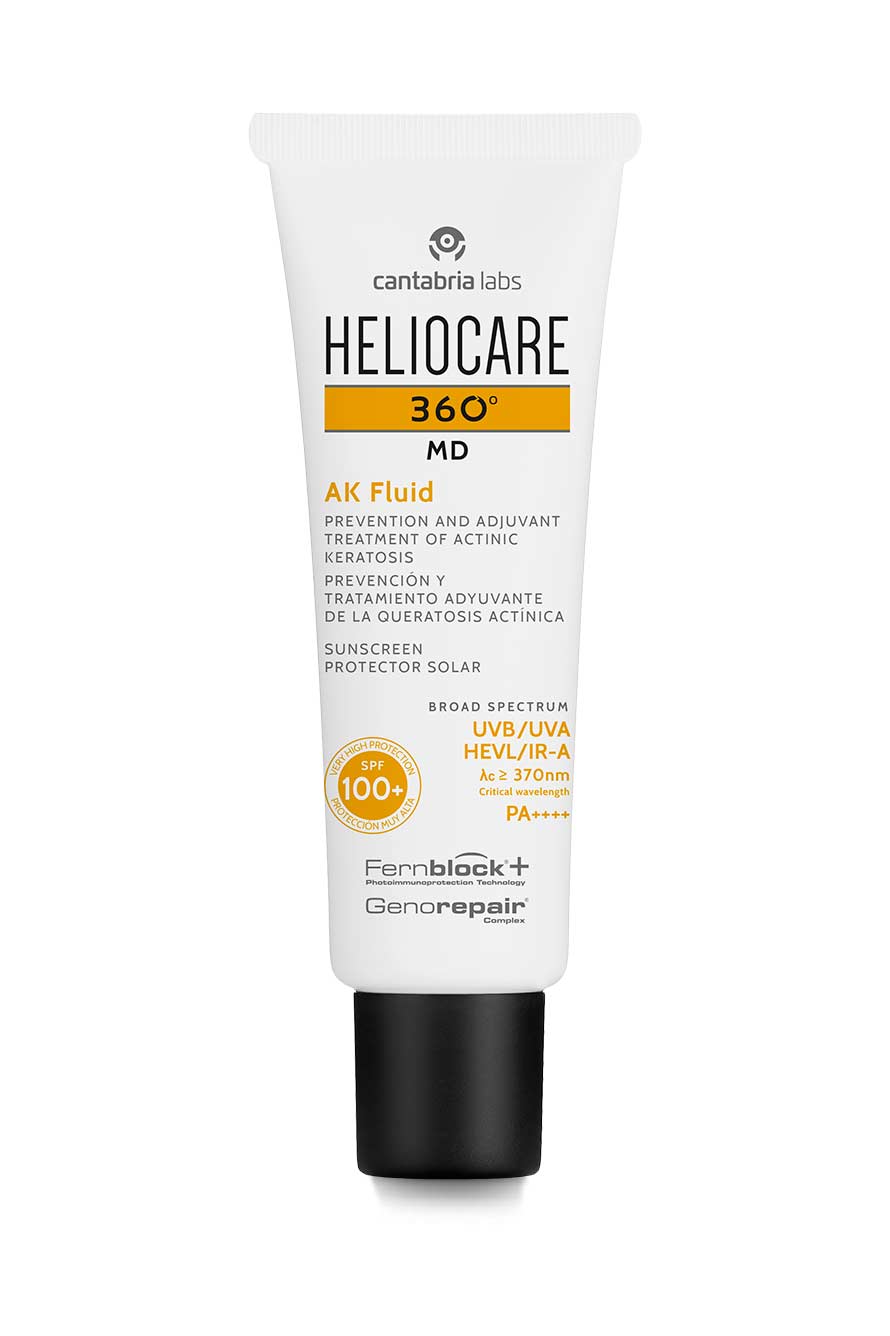 HELIOCARE 360º
MD AK Fluid
Adjuvant protective treatment of actinic keratosis (AK) and other forms of non-melanoma skin cancer (NMSC). Its repair complex GenoRepair® Complex, consisting of 3 enzymes: photolysase, endonuclease and glycosylase, works by activating the 3 mechanisms of DNA repair, promoting the repair of sun damage. Its fluid noncomedogenic texture favours daily application even in the most complicated areas.
With Fernblock®+, specific filters and repairing and antioxidant active ingredients, it protects against the 4 types of radiation (UVB, UVA, Visible and Infrared), neutralises and repairs sun damage. Tested under dermatological and ophthalmological control.
Format: 50 ml.
Prevention and adjuvant in actinic keratosis.
Broad spectrum protection (SPF100+, PA++++, Visible and Infrared)
Advanced sun damage repair complex
Antioxidant
Fast absorption fluid texture without whitening effect
Noncomedogenic
Tested under dermatological control
Tested under ophthalmological control
Hypoallergenic
Optimal and stable combination of sunscreens
Fernblock®+
Genorepair® Complex (Photolyase, Glycosylase, Endonuclease)
Sulforaphane (Lepidium Sativum Sprout Extract)
Physavie
OTZ 10
Biomimetic melanin
Arginine
Vederine
Shake before use. Apply generously and evenly before sun exposure. Reapply frequently, especially in case of direct and intense exposure. Apply only to clean, unbroken skin. In case of skin under pharmacological treatment or after AK or NMSC surgery, use the product once the lesions have healed.
External use. Avoid direct contact with eyes and mucous membranes. In case of adverse reaction to any of the components, discontinue treatment and consult the doctor. Avoid use in pregnant women, infants and children. Keep out of sight and reach of children.