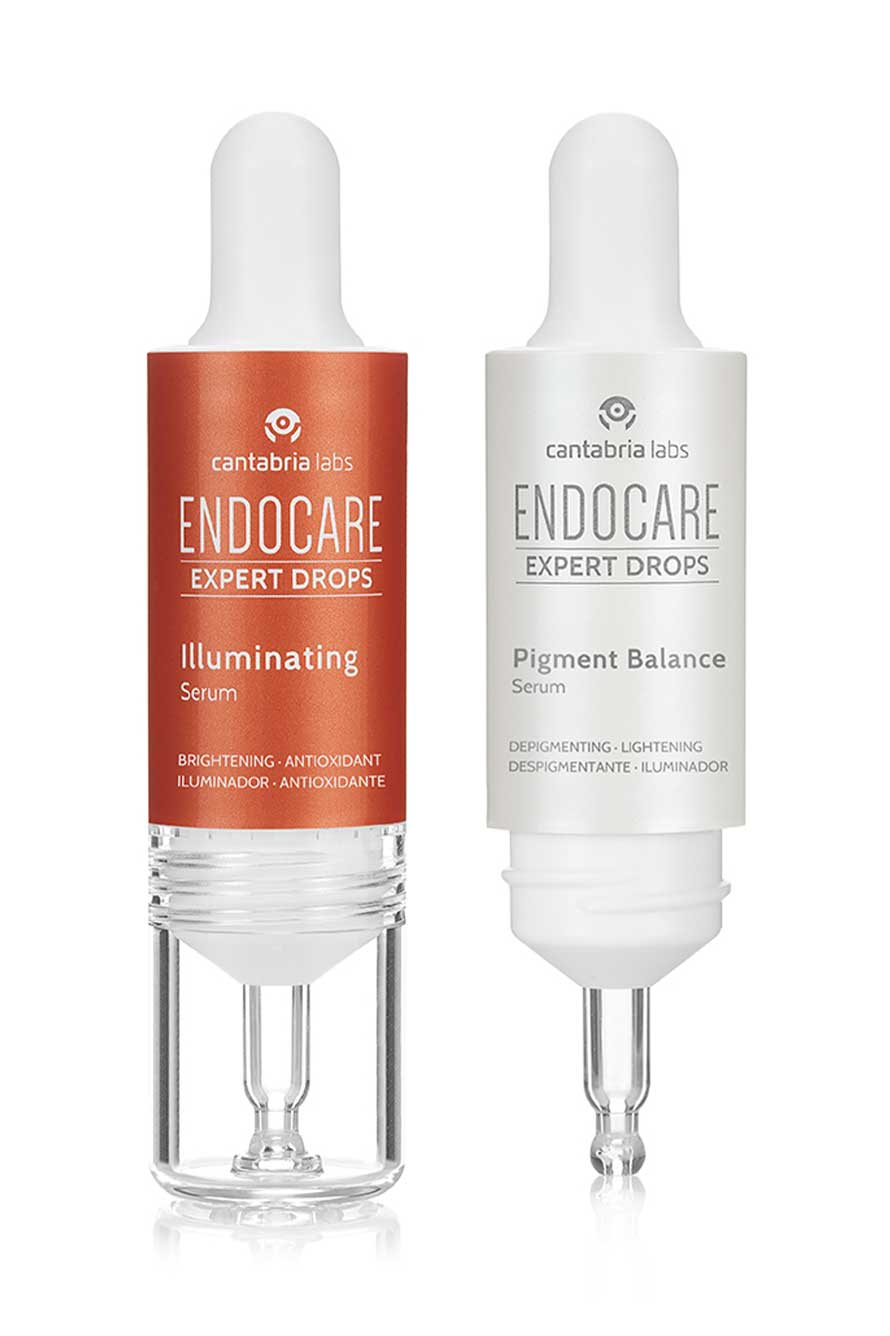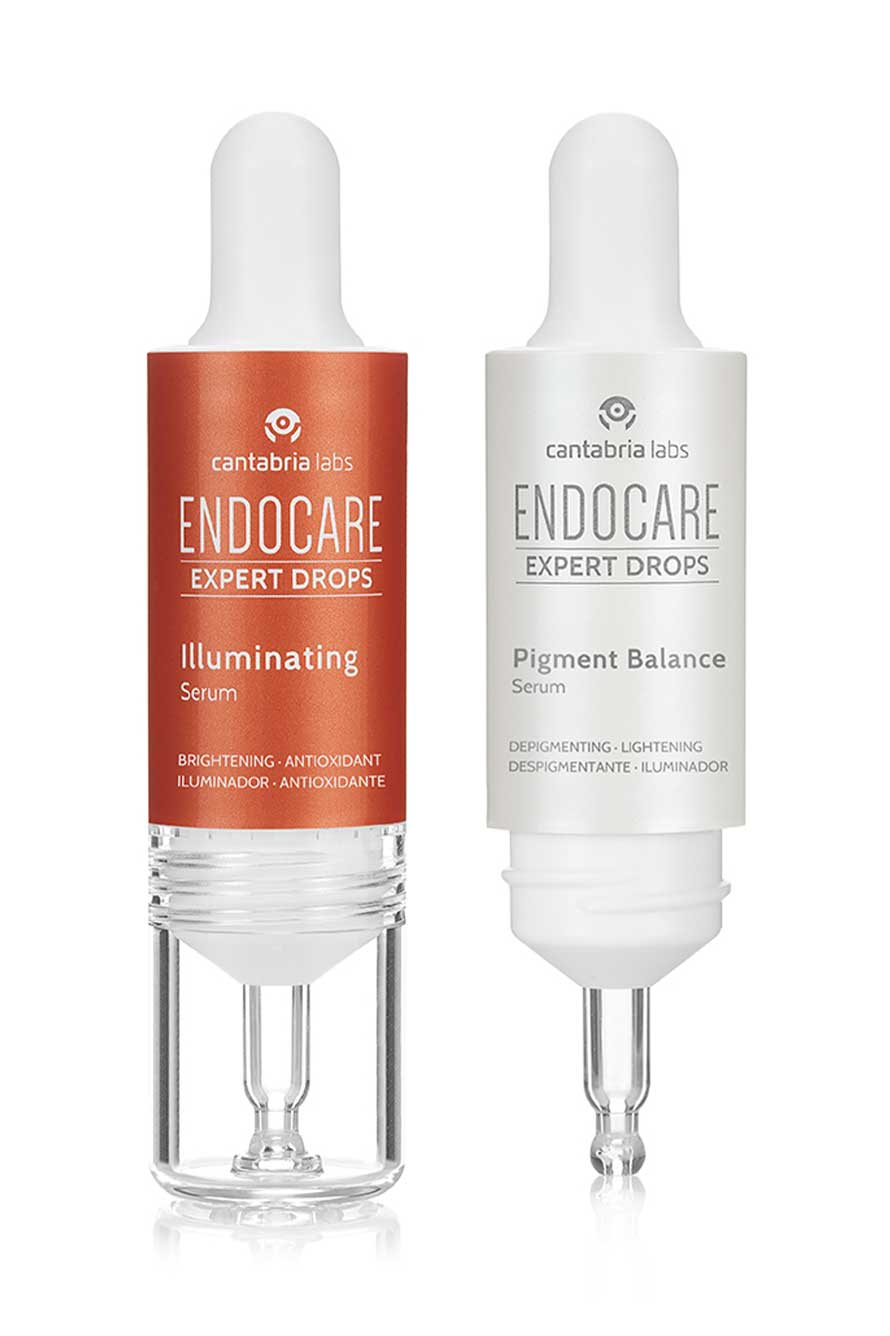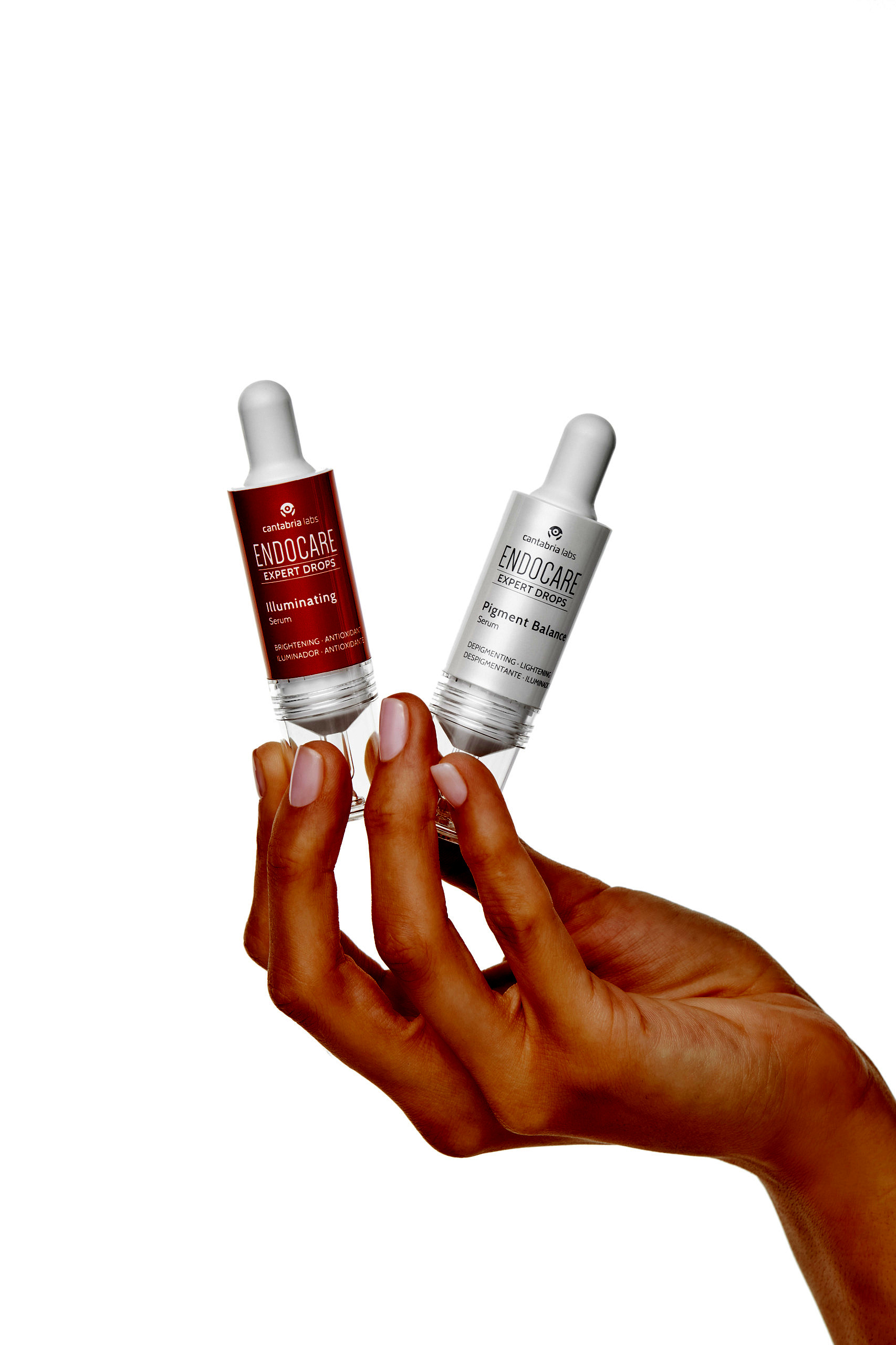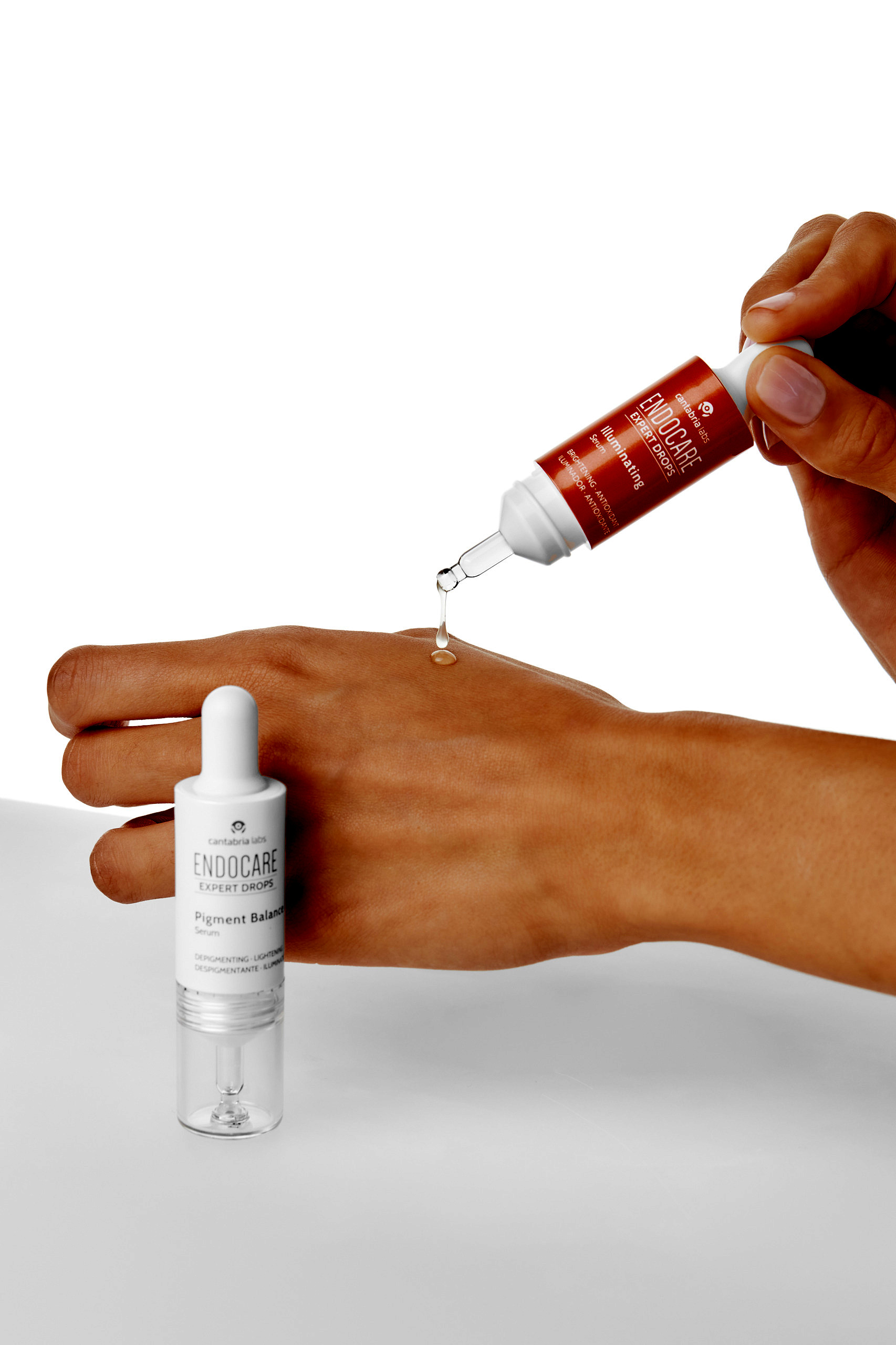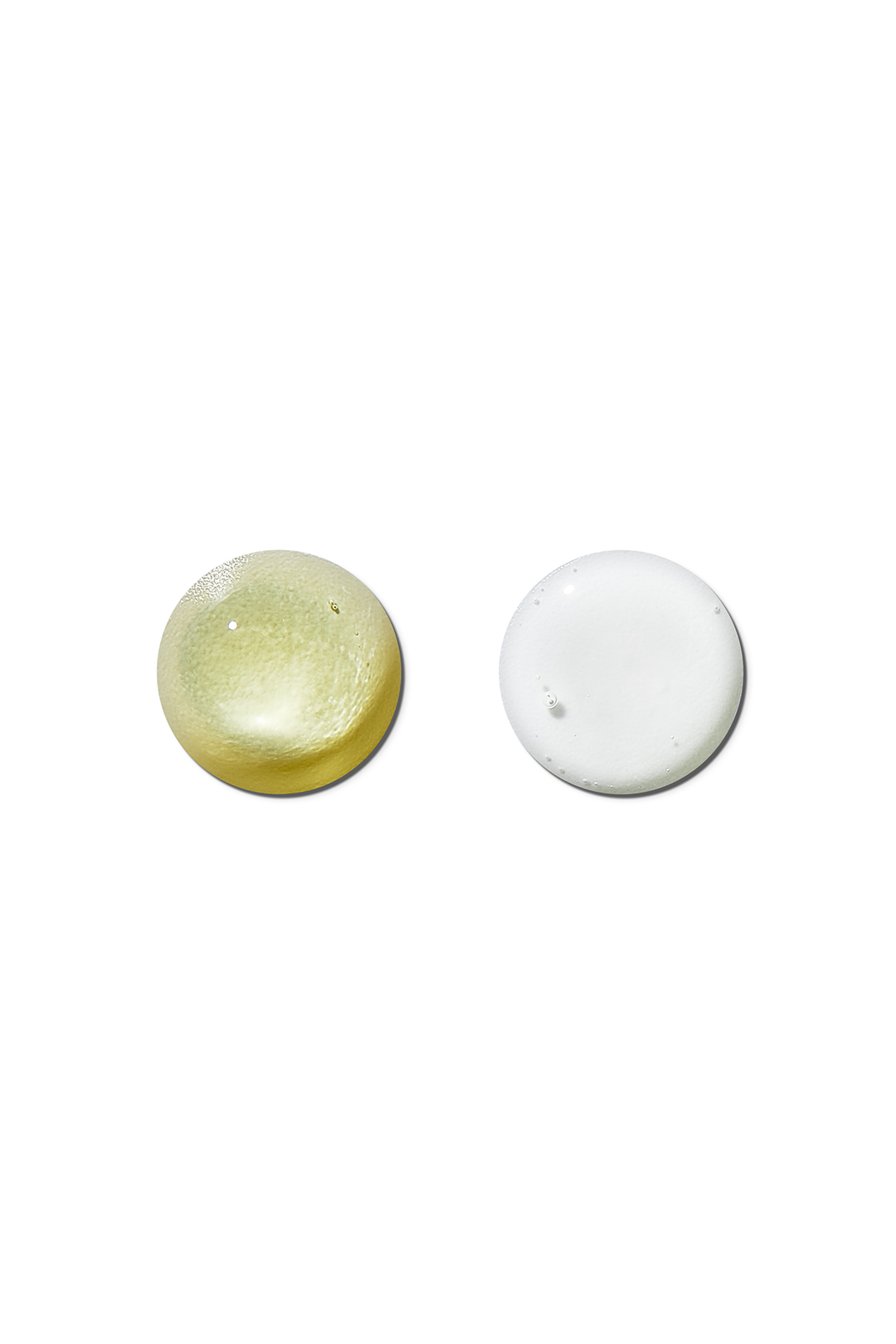 ENDOCARE EXPERT DROPS
Depigmenting Protocol
Brightening, antioxidant. Depigmenting.
Day and night protocol for daily use with a serum texture and a combination of active ingredients and patented technologies from Cantabria Labs for bright skin and even complexion.
ENDOCARE EXPERT DROPS Illuminating Serum Brightening Antioxidant. Day treatment with a combination of active ingredients: Stabilised Vitamin C, EDAFENCE® and SCA® which reinforces the skin barrier, protects and repairs against pollution and other external aggressor factors. For radiant and bright skin.
ENDOCARE EXPERT DROPS Pigment Balance Serum Depigmenting Lightening. Night treatment with a dual active depigmentation system: Azelaic System and Tranexamic Acid which reduces melanin production, reduces dark spots and marks. Reinforced with Retinol, a powerful rejuvenating active ingredient. For a more uniform and luminous skin tone.
Format: EXPERT DROPS Illuminating: 1 x 10 ml. EXPERT DROPS Pigment Balance: 1 x 10 ml
Brightening
Antioxidant
Antipollution
Depigmenting
All skin types
Non comedogenic
Tested under dermatological and ophtalmological control
Daily day and night treatment to protect skin against pollution and other external aggressive factors.
Dull skin with lack of radiance
Skin with uneven tone and hyperpigmentation
ILLUMINATING: Stabilized Vitamin C, SCA, EDAFENCE
PIGMENT BALANCE: Azelaic System, Tranexamic Acid, Ellagic Acid, Retinol, Bakuchiol
Apply Illuminating in the morning and Pigment Balance at night to clean, dry skin.
Shake before use. Use of a sunscreen during the day is advised. A slight stinging sensation is normal the first few applications. Avoid contact with eyes, contour areas and mucous membranes. Not recommended for sensitive skin. In case of irritation due to the high concentration of actives, space out or stop applications.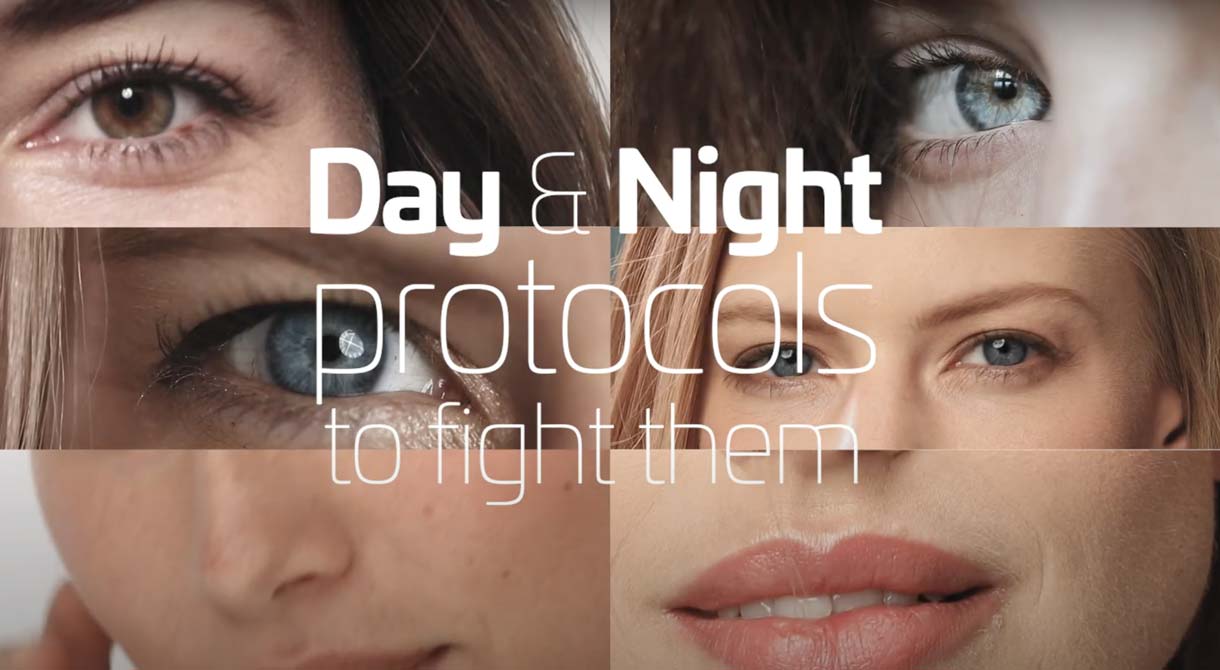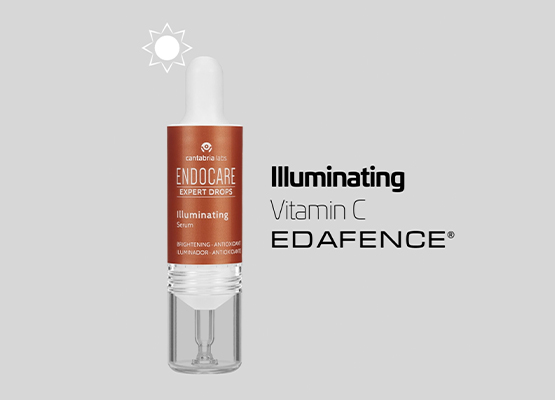 Illuminating Ingredientes
SCA® Growth Factor Technology (20%): exclusive technology from Cantabria Labs with regenerative and antioxidant activity to improve the signs of aging.
Stabilized Vitamin C: Multifunctional ingredient with powerful depigmentation action by inhibiting melanogenesis and antioxidant activity to protect skin from free radical damage.
EDAFENCE® (1%): Exclusive technology from Cantabria Labs that protects against external aggressors such as pollution, tobacco smoke, free radicals, blue light and ozone and also improves the skin barrier function.
Pigment Balance Ingredients
Azelaic System: Multifunctional active derived from azelaic acid with depigmenting action
Tranexamic acid: Ingredient with depigmenting activity to reduce dark spots.
Pomegranate extract: natural extract that contains high levels of Vitamin C and elagic acid antioxidants to prevent and repair free radical damage.
Retinol: Ingredient that increases cell renewal, protects against collagen degradation, improves skin texture and tone.
Bakuchiol: Active ingredient of natural origin with retinol-like activity that promotes retinol photo-stability by acting in synergy.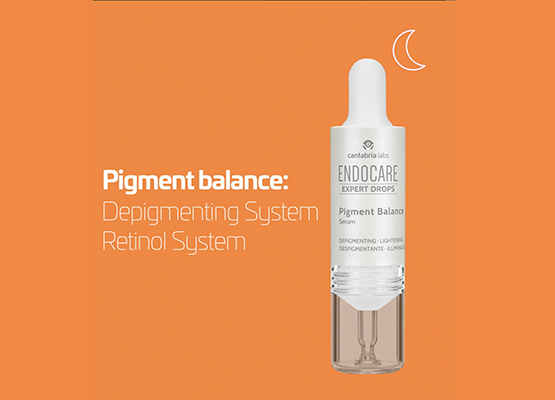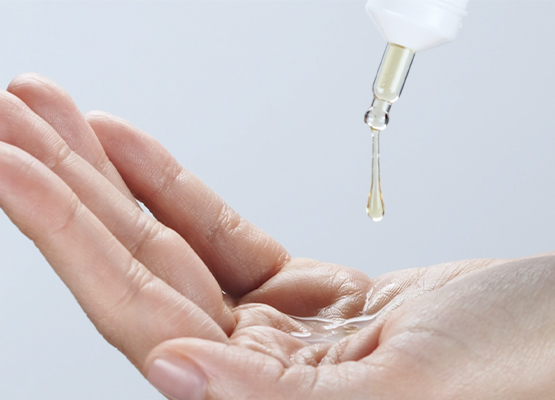 Innovative Textures
Excellent light texture and fast absorption
Velvety finish with no oily residue
Suitable for all skin types
Non-comedogenic