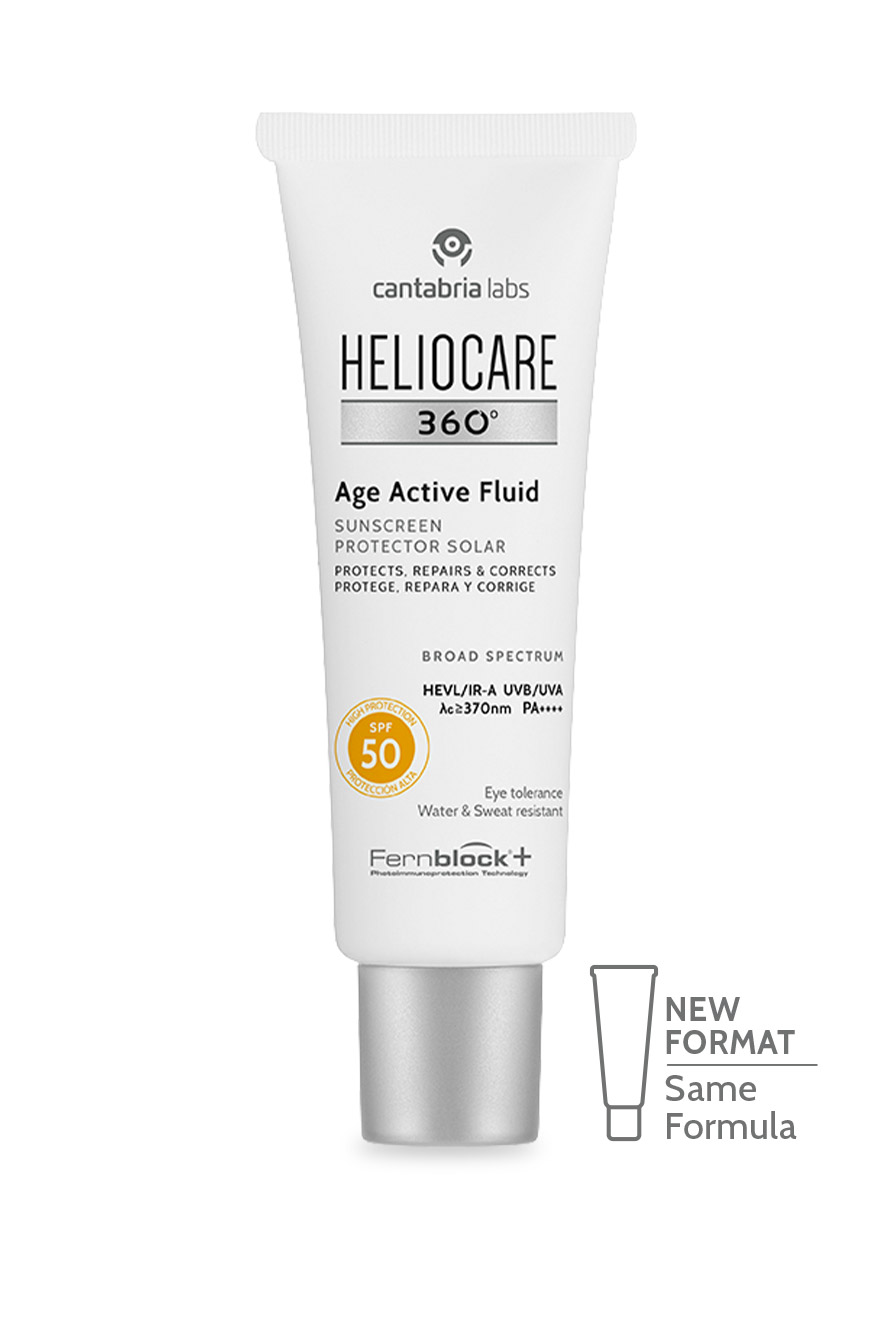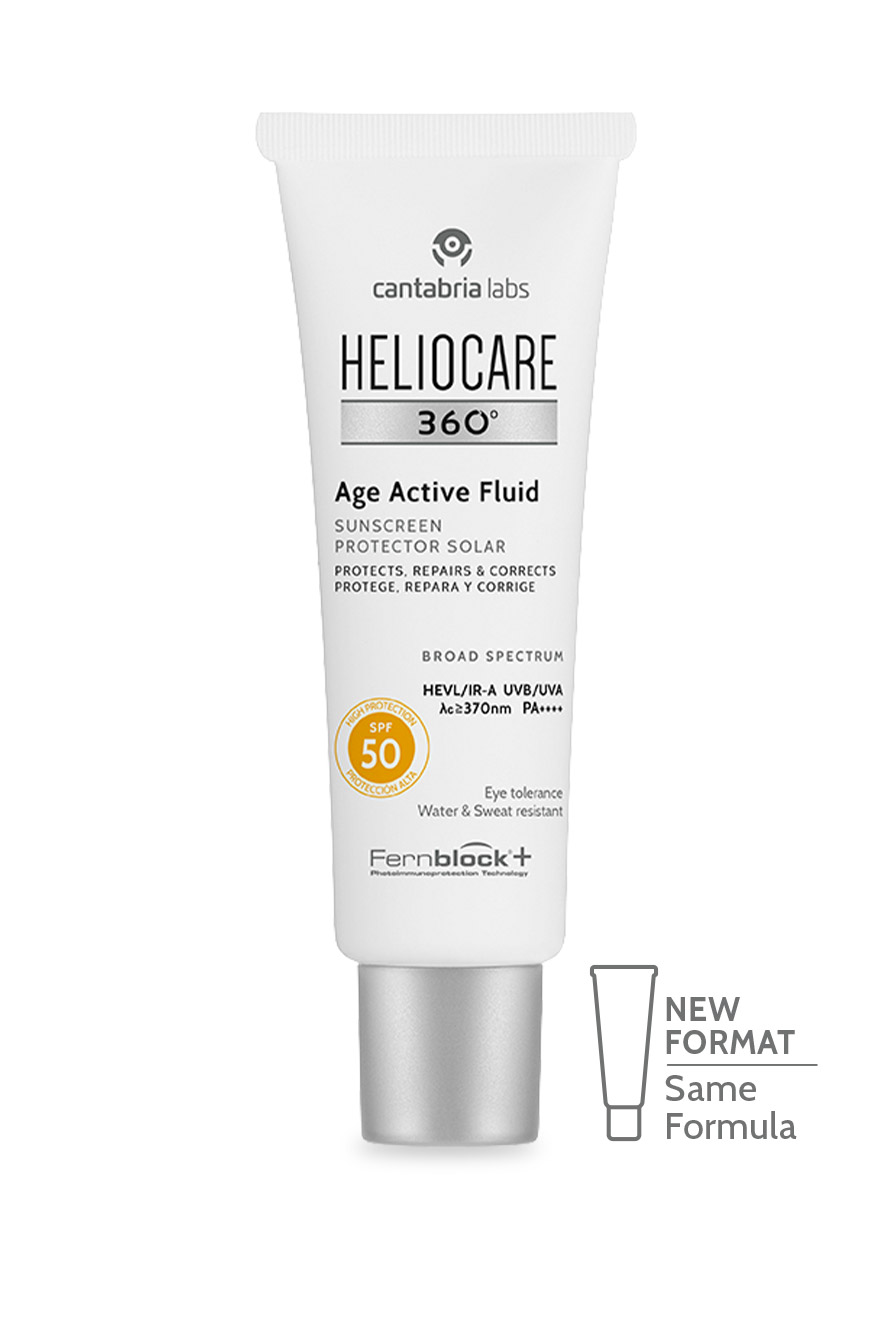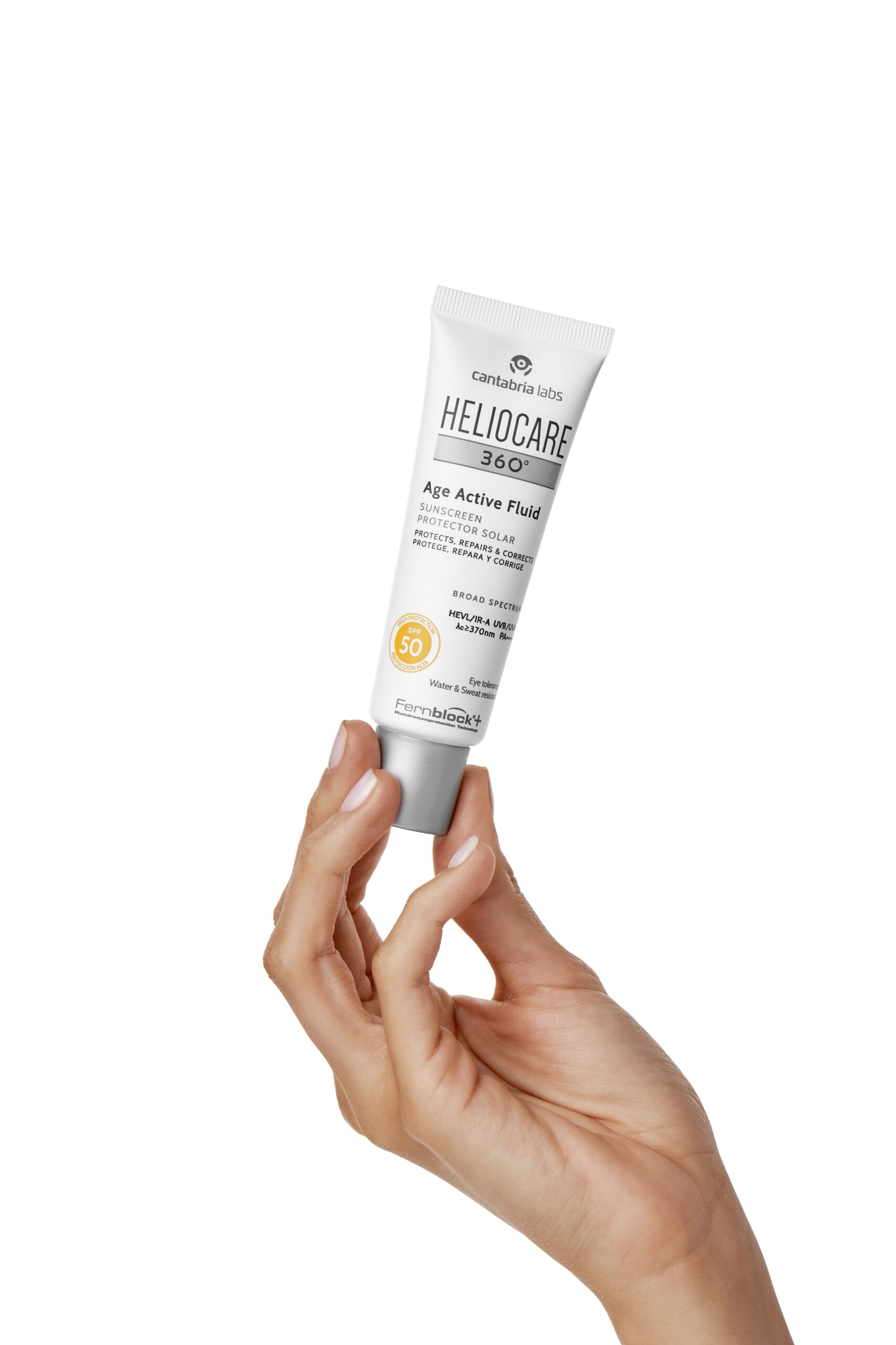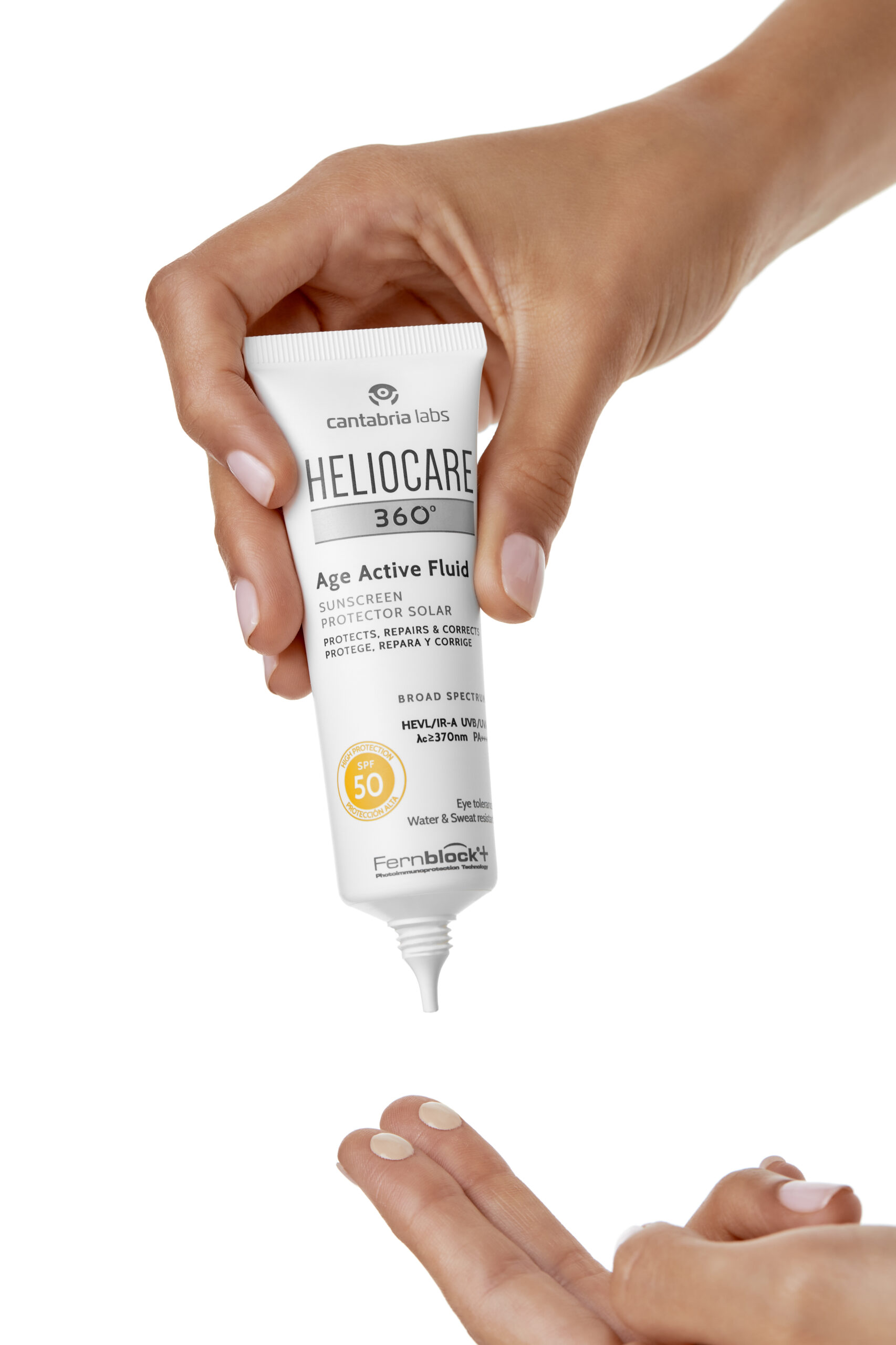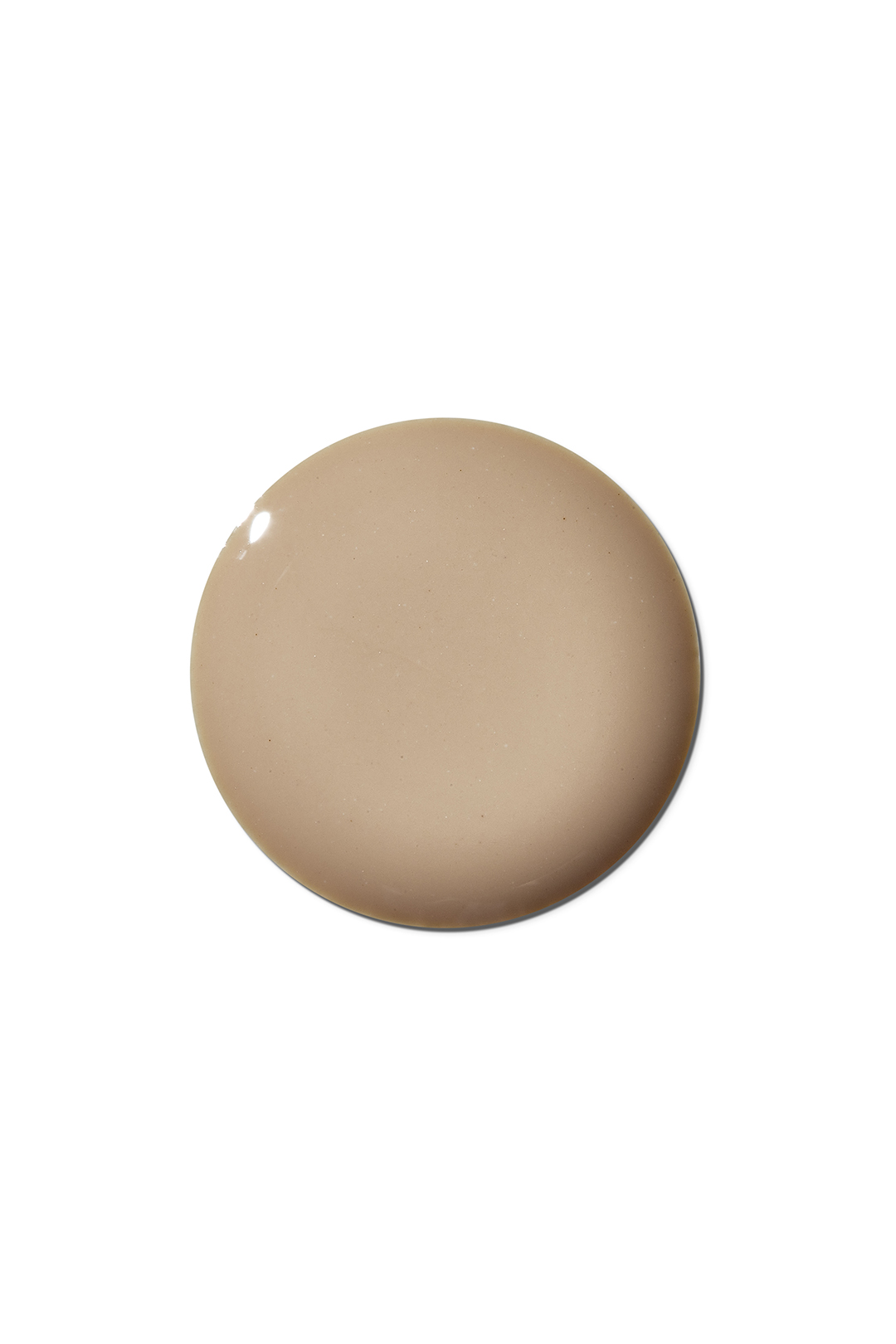 HELIOCARE 360º
Age Active Fluid SPF 50
Ultra-light photoprotective fluid to prevent and correct the sings of photoaging.
High and broad spectrum photoprotection that protects against the four types of radiation UVB-UVA-VL-IRA, including blue light emitted by digital devices. It has an antipollution system and a triple antiaging complex which helps to prevent and correct the signs of photoaging. Its ultra-light texture, perfect for all skin types, leaves a smooth and velvety skin, and blurs aging signs thanks to its soft-focus technology. Water and sweat resistant, does not irritate the eyes.
It meets the highest photoprotection standards. Its formula with carefully selected filters and Fernblock®+ protects against the four types of radiation (UVB, UVA, Visible light and Infrared), and it has an advanced activity against UVA radiation, visible light, and blue light, the main radiations responsible for photoaging. In addition, Fernblock®+ together with the repairing and antioxidant actives counteract and repair sun damage. High skin tolerance. Tested under dermatological and ophthalmological control.
Format: 50 ml
Broad spectrum protection (SPF50, PA++++, Visible light and Infrared)
Protection against pollution
Protection against blue light
Sun damage repair activity
Anti-oxidant
Anti-photoaging activity
It softens aging signs. Glow effect
Smooth and velvety finish
Water and sweat resistant
Non-irritant to the eyes
Non comedogenic
Hypoallergenic
Tested under dermatological and ophthalmological control
All skin types to prevent and correct photoaging.
Optimal and stable combination of sun filters
Fernblock®+
TinosorbA2B and Iron Oxide pigment to reinforce UVA and visible light protection
Triple Antiaging Complex: hyaluronic acid, serine and trehalose
Anti-pollution system
Soft-focus Technology
Shake before using. Apply evenly and generously before sun exposure. Reapply frequently, especially after swimming or excessive sweating.
External use. Avoid direct contact with eyes and mucous membranes. Avoid sun exposure at peak hours, when sun is strongest. Wear protective clothing, hat, and sunglasses. Babies and young children should not be exposed to direct sun.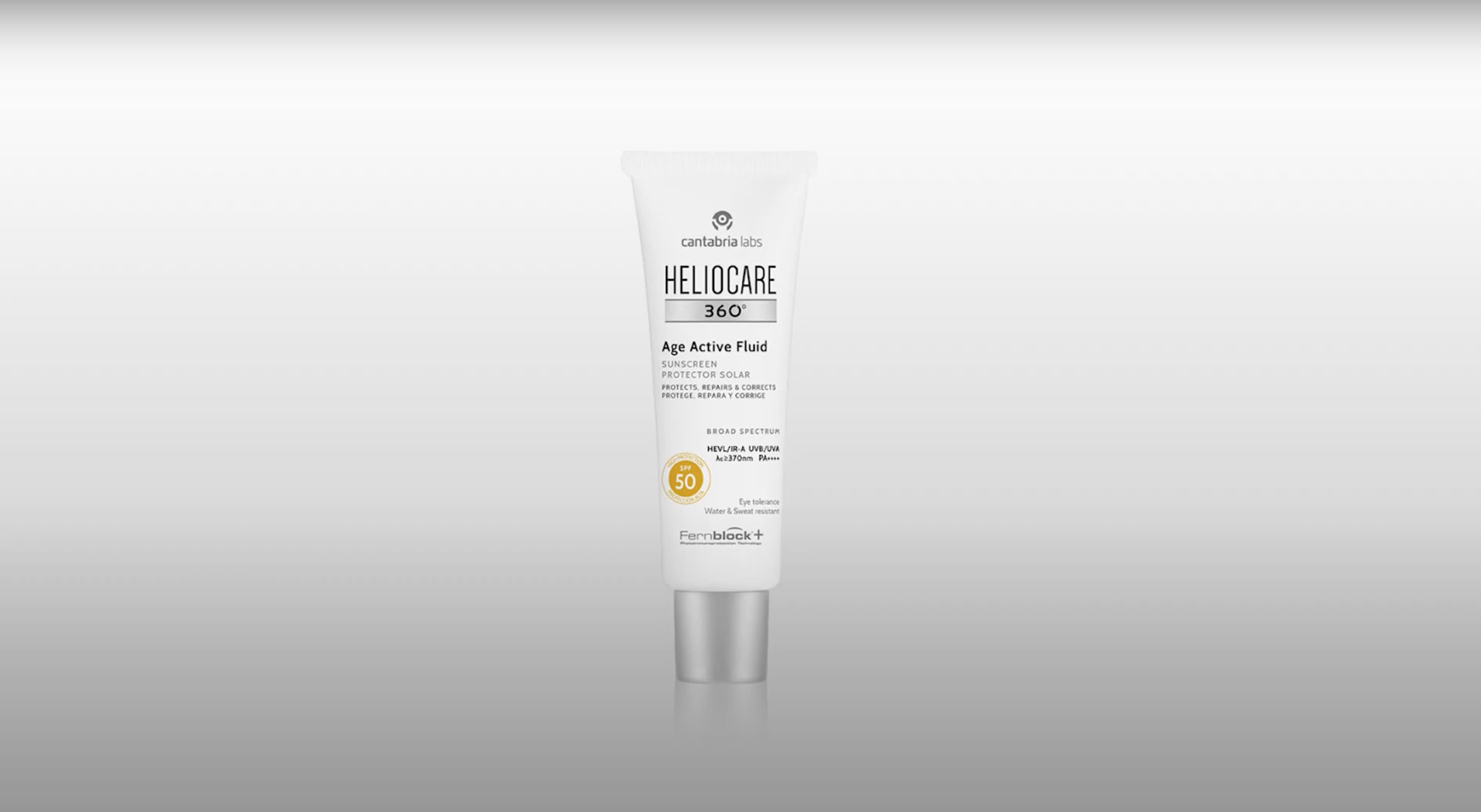 Broad spectrum photoprotection
Broad spectrum exclusive protective system with a higher protection against the main radiations responsible for spots (UVA, HEVL).
Protection against Blue Light
With Fernblock®+. Ultra antioxidant power. Protects, Neutralize and Repair. Demonstrated efficacy against Pollution and Blue Light. And Glycosilases, repair enzymes of DNA sun induced damage.
Protection against Pollution
The Antipollution-Biopolymeric matrix creates a protective shield that prevents polluting micro-particles from penetrating the skin, preventing the oxidative cascade and melanogenesis. Sustained release of the triple anti-aging complex.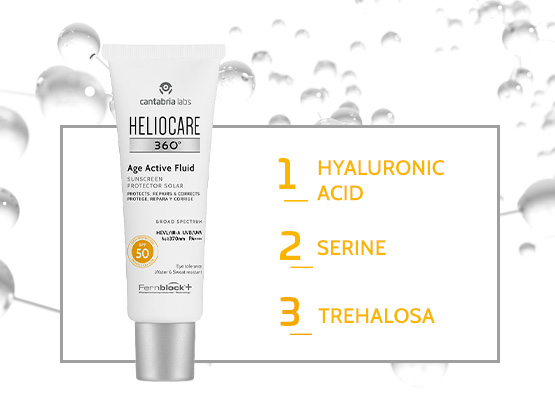 Triple Antiaging Complex
HYALURONIC ACID: provides firmness to the skin, reduces expression lines and moisturizes the skin in depth.
SERINE: amino acid that promotes the synthesis of hyaluronic acid and phospholipids helping to preserve cell structure.
TREHALOSE: disaccharide that acts as a cell protector and oxidative stress reducer
Sensory Experience
SOFT FOCUS COMPLEX: diffuses light, reducing the appearance of wrinkles. It creates an optical effect of healthy and attractive skin.
PREMIUM FLUID EMULSION: Fresh comfort hydration and absorption. Melting, silky, improves the appearance and texture of the skin. With pigments that mimic the skin and unify the tone covering up imperfections.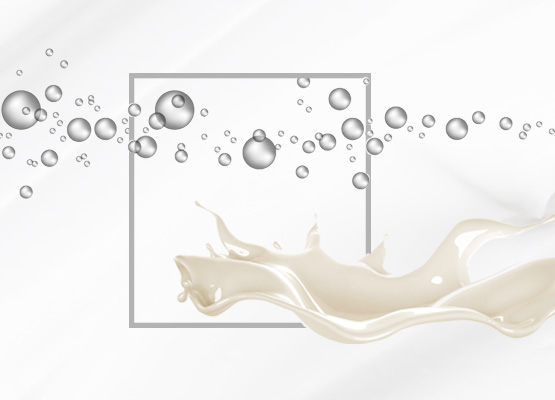 Latest from Communication Area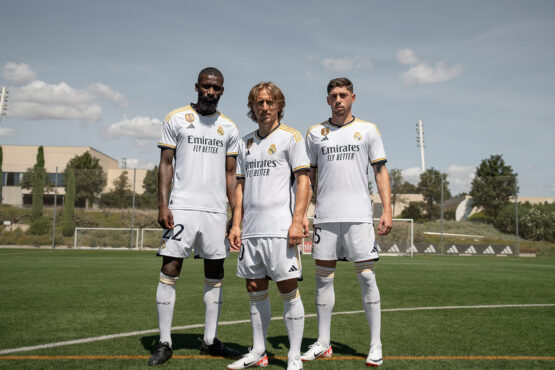 In line with its goal to improve people's health and quality of life, Cantabria Labs, in partnership with Real Madrid...